Freezer-Friendly Fajita Kits with marinated chicken, chopped peppers and onions, shredded cheese and whole-wheat tortillas. Top with salsa and guacamole for the ultimate make-ahead Mexican feast.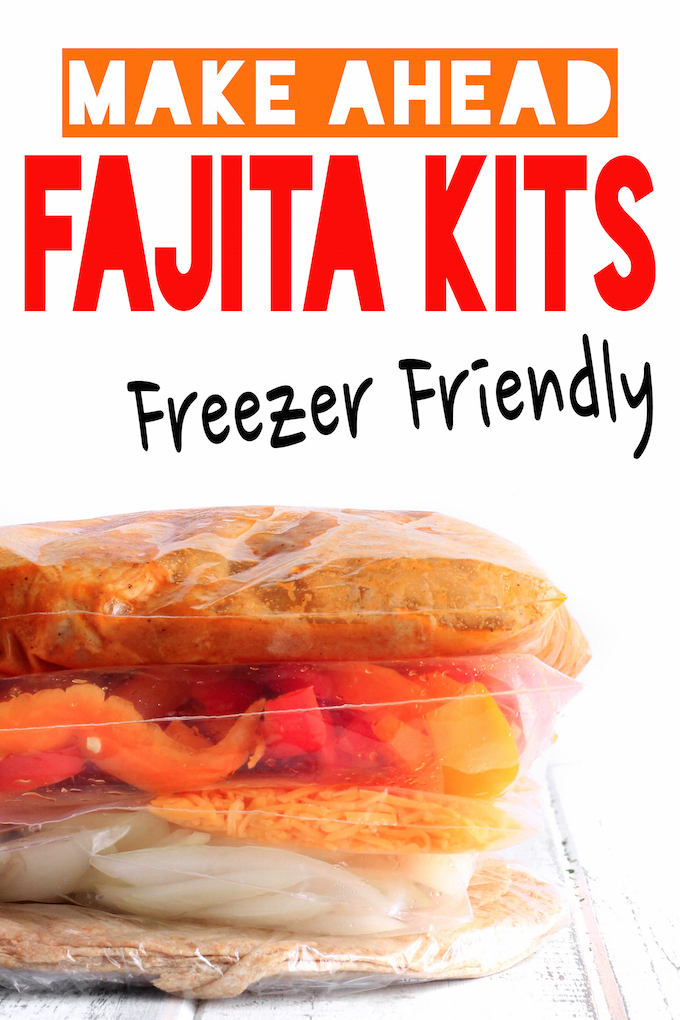 This is happening.
Freezer-Friendly Fajita Kits. And that is all. No homemade pico, no crazy amount of toppings. It's back to basics today.
A big ol' whole-wheat tortilla topped with juicy marinated chicken and a few veggies ---> you guys, healthy really doesn't have to be complicated.
I started making these freezer-fajita kits a couple of years ago. That's right -- years and I haven't shared it here, um, I don't know. It just seemed kind of basic. That being said, you and I know the truth: some nights a ready made dinner from the freezer, even if it is as ultra simple as chicken, peppers and onions rolled up in a whole-wheat tortillas, well.. It's. A. Win.
Let's get our Super Simple Delicious on.
Everything You Need To Know About Freezer-Friendly Fajita Kit Making
First, gather 4 quart size Ziplock bags and 1 gallon size bag.
Second, chop chop chop. Slice chicken, peppers and onions into long thin strips (on separate cutting boards of course!).
Third, place chicken into a quart size Ziplock bag. Add lemon juice, olive oil, salt and taco seasoning. Seal bag. Rub the bag between your hands to ensure that all chicken is evenly coated.
Fourth, place the peppers, onions and cheese into separate quart sized Ziplock bags. Seal.
Fifth, place ALL ingredients + 8 whole wheat tortillas  into the large Gallon size bag and label and date it. Freeze and save for a night when hours in the kitchen Just. Isn't. Happening.
Everything You Need To Know About Freezer-Friendly Fajita Kit Cooking
First, thaw the chicken/marinade, tortillas and cheese the night before you will be cooking the fajitas. Just place them in the fridge. DO NOT thaw the peppers or onions, They will turn into mush!
Second, follow recipe directions as written.
So maybe it scores a little low on the fancy Mexican Fajitas food scale, but are we really going to stress? Ok, sometimes, yes.. buuuut, on those nights when soccer practice runs late, the kids need help with their homework and your chickens get stuck on top of the basketball goal and need to be rescued (oh wait... that's probably just me?) just,NO. Trust when I say that theses freezer-friendly fajitas are on top of their game in the categories of convenience, taste, and I NEED DINNER MADE RIGHT NOW.
If you happen to have a half used jar of salsa or some guacamole laying around to top off your fajitas before devouring... well, you should definitely go for it.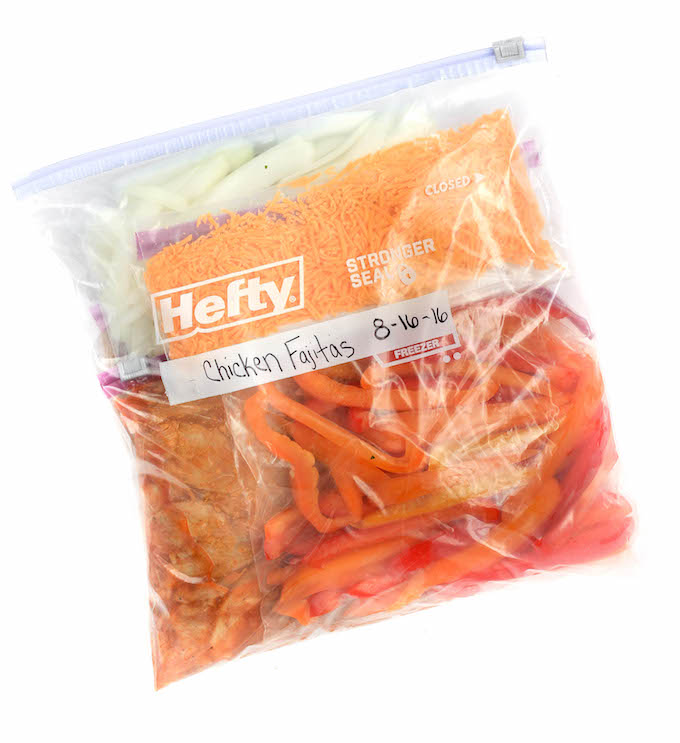 Time Saving Tips and Tricks:
There are 3 different methods that you can use to make these fajitas.  The result will be the same with each!  You can make them fresh, prep them, or make a freezer kit to use later! Sometimes I do all 3.
Fresh: Follow recipe as it is written.
Prep: This is the best option if you plan to make fajitas in the next 2-3 days. Make marinade and slice the onions peppers and chicken. Store each ingredient in a quart sized Ziplock bag. The night before you are going to make the fajitas, combine the marinade and chicken into one of the bags. Follow directions as written.
Freezer Kit: Check out the specific directions above.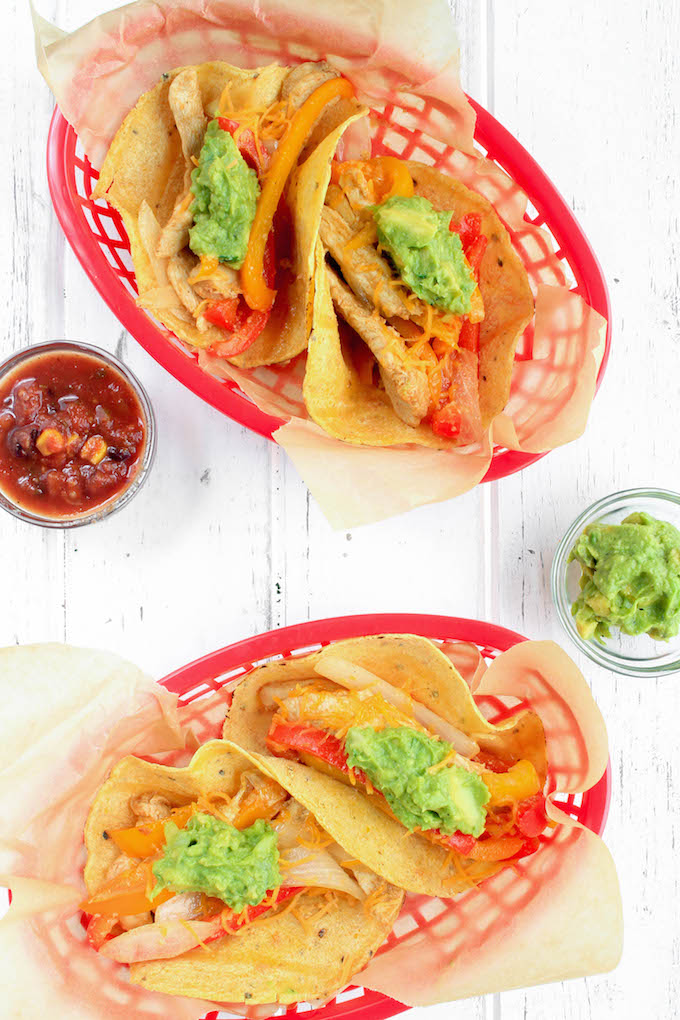 Print
Freezer-Friendly Fajita Kits
Author:

Prep Time:

20 mins

Cook Time:

15 mins

Total Time:

35 minutes

Yield:

10

fajitas

1

x
---
1.5

lbs. of boneless skinless chicken breast , thinly sliced

3

TBS olive oil, divided

2

lemons, juiced

½ tsp

salt

5 tsp

taco seasoning

3

bell peppers, sliced

1

medium onion, halved and sliced lengthwise
whole wheat tortillas

2

limes
---
Instructions
In small bowl combine the juice of 2 lemons, 2 TBS olive oil, salt and taco seasoning. Whisk to combine.
Combine sliced chicken and marinade in a plastic bag. Gently rub the bag between your hands to ensure that all chicken is coated. Marinate a minimum of 30 minutes (overnight is best).
Heat a cast iron skillet over medium high heat. Pour chicken, marinade into hot pan. Once chicken is no longer pink in the center (cooking time will vary based on thickness), remove and set aside.
To the same pan, add peppers, onions, remaining TBS of olive oil. Season with salt and pepper. Cook until veggies are tender, about 6-9 minutes.
Wrap tortillas in foil and bake in the oven at 350 for 15 minutes or until warm.
Arrange meat and peppers/onions on a platter. Top with the juice from a lime. OPTIONAL TOPPINGS: avocado, cilantro, guacamole, salsa, pico
---
Helpful Hints:
Here is the link to the clean taco seasoning that I make instead of store-bought. Making my own allows me to control the quantity and quality of all of the ingredients. The recipe makes a ton so you will have plenty to use next time!
When you are cooking your freezer kit.. DO NOT THAW THE PEPPERS AND ONIONS. They need to be thrown into the pan frozen. They will turn into MUSH if thawed.
When I make fajitas I often double the recipe. I serve ½ fresh and turn the other ½ into a freezer kit.
Let's Connect:
Other Freezer-Friendly Recipes You Might Like: