5 Healthy Meal Prep Methods + Resources and Recipe Ideas. Everything you need to get a real-food dinner on the table consistently.
Pin 5 Healthy Meal Prep Methods for later!

THE SECRET TO HEALTHY MEAL PREP:
If there's one thing that I've learned after blogging about healthy meal prep for 5 years, it's this: There is no one-size fits all secret solution. You can buy programs, purchase special cookbooks, try fancy meal scheduling planners, invite friends for meal swaps, cook enough freezer meals to last a month - and guess what, NONE of those options are going to provide you with a long term, day-to-day solution.
Now, that's not to say that they aren't helpful resources. That's also not to say that each of those different things isn't your "ideal" strategy for getting dinner on the table. BUT ... I'm going to argue that setting a rigid meal planning schedule or implementing just one method isn't sustainable.
I don't say this lightly. In fact, as someone who has been searching for the "solution" for the better part of 9 years, this is pretty disappointing to me. I'm about as TYPE A (enneagram type 1 <-- if you know you know) as they come. Lists, organization, structure, labels, planning ... there isn't a bigger advocate. I'm a work from home mom that writes a cooking blog about meal prep. You would think I would have healthy meals planned and prepped for days, and sometimes we do. However, I'm going to let you in on a little secret.. sometimes we don't. I value feeding my family healthy meals made with real food ingredients, of course I do, but I'm just going to put the truth out there. Unless you have a private chef (goals), it's not always going to happen. No matter what method you choose, meal prepping takes time and TBQH I don't know a lot of parents that have a whole lot of that to spare.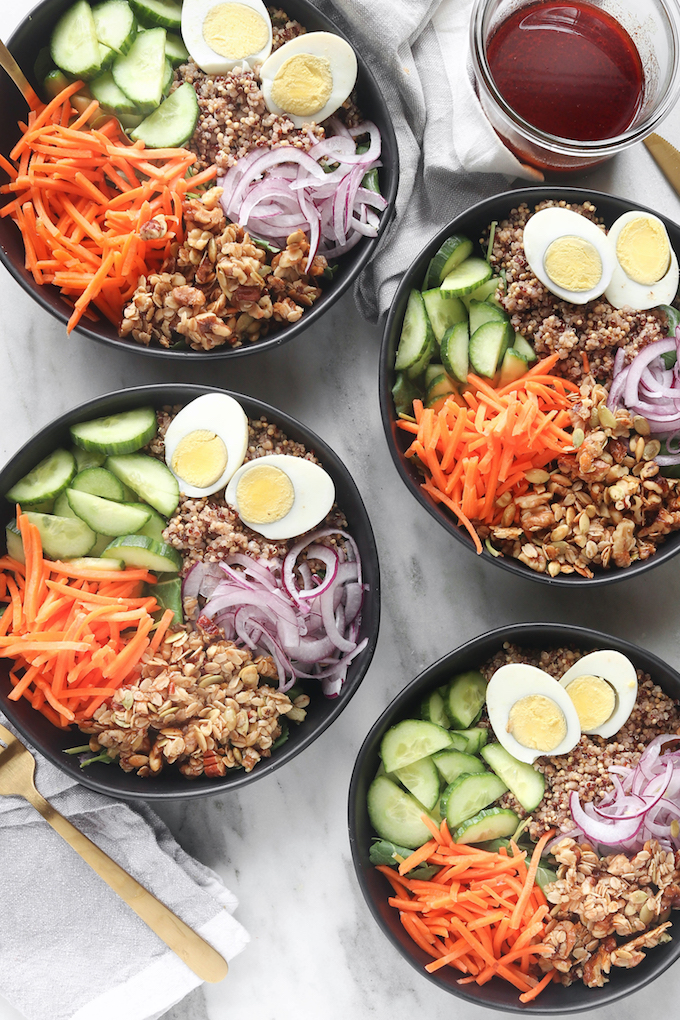 HOW TO MAKE HEALTHY MEAL PREP HAPPEN CONSISTENTLY:
I don't want to go all "doom and gloom" on you. I didn't write this blog post to tell you that meal prep is a waste of effort and that it isn't in any way sustainable. This post is all about healthy meal prep methods that work.
So here's my theory... you can't choose just one. You need an entire arsenal full of resources and methods. Parents know, anything can go wrong at any time. My schedule is determined by the schedule of those around me. For example, this week I have a lunchtime meeting with Campbell's teacher on Thursday. Cooper is supposed to have soccer on TWR, but cold temperatures have caused the Tuesday's practice to move to Friday. Cruz is recovering from RSV so he won't be attending his Mother's Day Out program. That doesn't even factor in that school was cancelled on Monday because of MLK day so all 3 boys were home. My point is not to complain. My point is that there is no such thing as a "normal" week when you have kids. Sometimes we eat dinner 7 nights around the table together, and sometimes 2. Basically, our needs change from day-to-day and week-to-week. Now that we have accepted that as fact, let's jump into how we can deal with it.
COMMIT 30 MINUTES WEEKLY TO PLAN AND ORDER GROCERIES:
There are some weeks that you may need less "meal prepping" and more "meal planning."
I decide weekly how involved my meal prep is going to be based on our schedules and the amount of time I have to spend in the kitchen. No matter what method I select, there is one constant ... I make a plan + order the groceries to make that plan happen every single Sunday night. Pre-ordering the groceries holds me accountable to make the meals so that the money I spent on groceries doesn't go to waste.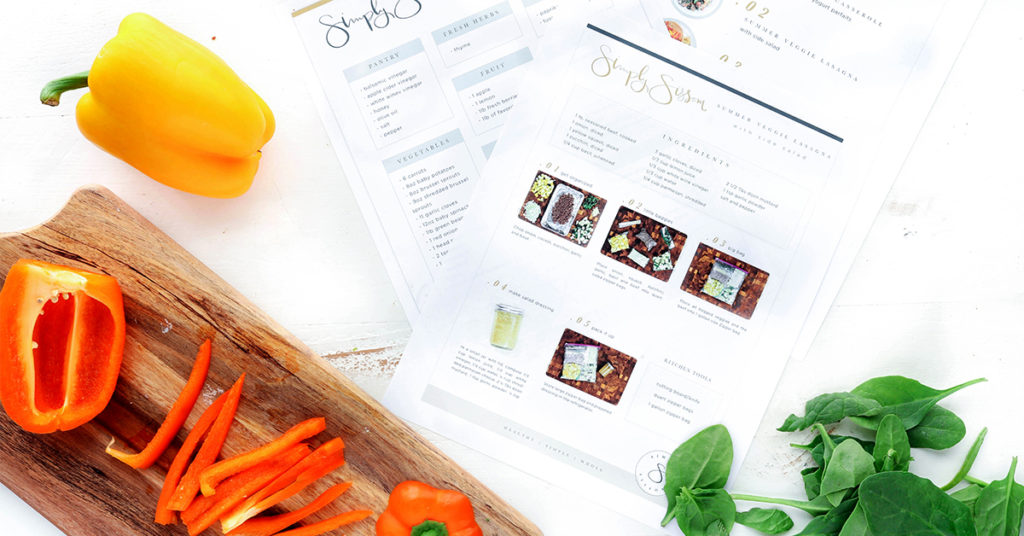 5 HEALTHY MEAL PREP METHODS:
COMPONENTS: Choose 4-5 staples to have available in your refrigerator throughout the week for quick and healthy meals that can be thrown together quickly. I recommend the following:
Prepare a grain or starchy carb. I usually go for brown rice or quinoa. You can add flavor (mixing with salsa OR tossing with olive oil + lemon juice + salt/pepper are 2 of my favs). The grains can be used a side, the base of a macro bowl, or even tossed into a salad.
Prepare a few types of roasted vegetables. At the end of each week I usually take all the veggies from the crisper drawer and roast them. Arrange the vegetables on a baking sheet, spray with olive oil and season with salt and pepper. Roast at 425 for 20-25 minutes.
Prepare a Protein: IMO, this is the most important. My favorite is when Joe does a huge batch of chicken on the grill, but more commonly I make Salsa Verde Chicken, brown some taco meat OR make a whole herb roast chicken . Italian Meatballs, Buffalo Mini Meatloaves and juicy turkey burgers are other favorites around my house.
Prepare 1-2 Dressings/Marinades/Sauces: Homemade sauces are usually VERY simple to assemble and transform boring ingredients (like brown rice, vegetables and chicken) into something special. I usually make a salad or macro bowl dressing for myself (lemon tahini and honey-lime are excellent) and either some pesto or marinara for the family.
As I decide which components I want to make each week, I consider how they will work together. For example, if I am making marinara sauce I may opt to go with quinoa, italian meatloaves and some broccoli + roasted red peppers. This combination works well together and has lots of meal possibilities.
DOUBLE + FREEZE: I always double our dinner recipes when they are freezable. It doesn't take much effort and I get to take advantage of the whole "cook once, eat twice" situation. Sometimes we eat the recipe as leftovers within the same week and sometimes I save it for a random night when things don't go according to plan in the dinner department.
HUGE PREP SESSION + FREEZE: Sometimes it's helpful to just knock out dinner for the week or to "stock the freezer." While I don't recommend this as a weekly solution (you will burn out), you'll never hear me saying that having fully-assembled freezer meals ready to go is a bad idea.
A LITTLE HERE, A LITTLE THERE: Perhaps the most likely to occur option of all! I don't have large chunks of unused time built into my day. In theory, there would be nap time, but at our house you can't count on it. On weeks when I don't meal prep I STILL HAVE A PLAN. As I find 5 minutes here or there I chop an onion, peel some carrots, brown some ground beef, etc. Just putting a little effort in throughout the days makes assembling the recipe so much easier at meal time.
MEAL SWAP: This is a great "every once in awhile option." A solution that allows you to spend time with friends, while checking this week's dinner off your mile long to-do list. SWAP X SIMPLY SISSOM is a FREE resource that offers everything you need to host a fun and efficient meal swap.
Here's how Swap X Simply Sissom works:
Invite your friends to your swap party. You will need to include yourself + 3 friends. All the SWAP X Simply Sissom recipes are written for groups of 4. Any less.. and you won't have enough meals to get you through the week, any more and you run the risk of not using all your kits before things get less than fresh!
Assign recipes. These are all written for you, you just choose who is going to make what.
Each attendee will turn their assigned recipe into 4 identical meal kits. There are step-by-step instructions for doing this along with a grocery list.
Meet up and swap. You will show up to the swap with 3 of your prepared meal kits (you will keep one of the meal kits that you prepared at home for yourself) and leave with 3 different meal kits. That's dinner planned and prepped for 4 nights!
Use your meal kits throughout the week to prepare delicious dinners that come together really fast. Directions for turning your meal kit into a meal are included. No more worries about what to make for dinner!
MY FAVORITE FREEZER FRIENDLY RECIPES:
BREAKFAST:
Lunch:
DINNER:
SIDE DISHES:
MY TOP SIMPLE FAMILY RECIPES:
Not every week can be perfect. There will be weeks you don't plan, nobody is home at the same time for dinner, etc. etc. etc. These are the occasions that are perfect for pulling out one of those recipes that you doubled and froze OR just making a SUPER SIMPLE dinner that is silly effortless. Here are my top "oh-crap-I-have-to-make-dinner-and-I-don't-have-any-time-in-my-life" recipes!
LET'S BE FRIENDS:
You can find Simply Sissom on Instagram where I share even more recipes (some that aren't on the blog), behind the scenes pics and videos AND tips and tricks to make healthy eating realistic for your busy family.
Did you make this recipe? If you tried the recipe, I would love to see it and have you share! Tag me @simplysissom using the hashtag #simplysissom.
POSTS LIKE 5 Healthy Meal Prep Methods + Resources and Recipe Ideas:
How to Stock The Freezer for Healthy Meals: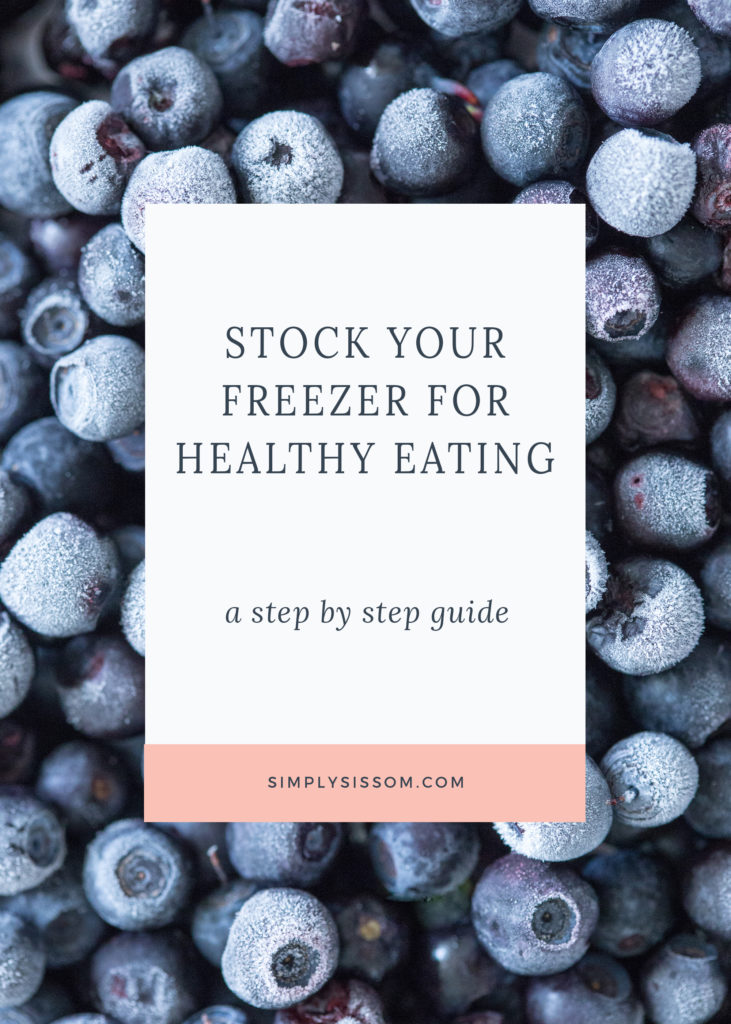 How to Host a Meal Prep Party: